Welcome to the Fremennik Wiki!
Edit
Welcome to Rellekka! This is your starting place for all things Fremennik. This wiki is dedicated to the members of the Kingdom of Rellekka, everything related to them, and to our glorious clan. Long Live the Kingdom of Rellekka!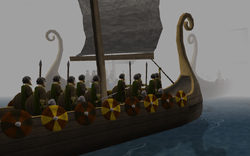 To begin....
Edit
We've just started, and a lot of people have made articles. Please, Please, PLEASE, If you make an article, dont leave it blank! It doesnt need to look like a real, wikipedia article, but please type something!
Keep the articles on topic! The topic is obviously only Fremmenik related subject matter, so please stop creating pages with nothing to do with the topic. (This is what the site is for) If you need help on an article, please visit the RuneScape wiki, found here "RuneScape. Wikia", but please dont just copy and paste an entire page from there.
Please stop vandalizing this wiki, it will never flourish if you persist with destroying the information.
Plan of Action
Edit
When Lords and Lands get's up and running, Regional Governors and their citizens can edit articles for their regions.
Individual land or shop holders can actually make articles for their shop/property, and this also lets people make bios for their users
For NPC's, guides can be put into the articles, as well as useful information for KOR members.
Please remember, if we just want information, we have RuneScape Wikia, if you don't put a distinct Fremennik touch to it, there isn't much point, so add some bias, some back story, whatever, just make it cool.
Community content is available under
CC-BY-SA
unless otherwise noted.